Whole Person Care is a model of healthcare that considers a person's health in the context of their broader life circumstances.
To illustrate the value of this model, imagine two people (A and B) with depression, diabetes, lack of stable housing, and an infected cut on their feet.
Person A navigates a status quo healthcare system and goes to urgent care for their wound to be dressed. The urgent care provider, unaware of the patient's background, cleans the wound and prescribes a multi-day course of antibiotics. Unable to afford transportation to the pharmacy, with no safe place to store the pills, and struggling with an acute episode of depression, person A does not pick up the prescription, their infection spreads, and they wind up admitted to the hospital at risk of losing their toe, or worse.
Person B, who lives in a region with Whole Person Care, also goes to urgent care for their wound. They are accompanied by a community health worker who is connected to their primary care clinic. Aware that person B does not have a place to store medications, the community health worker participates in developing a treatment plan that meets person B's preferences and life circumstances. A follow-up appointment is also scheduled at person B's primary care clinic to ensure that their foot is healing. Person B is able to use transportation vouchers to get to and from urgent care, the clinic, pharmacy, and shelter. The community health worker also supports person B in accessing long-term housing.
What is Whole Person Care?
Whole Person Care Definition
Whole Person Care (WPC) is a person-centered and interprofessional healthcare model that offers comprehensive and coordinated services to address physical, behavioral, psychological, and social needs. These may include:
Primary care
Specialty medical care (e.g. neurology)
Hospital care
Integrative medicine
Mental health (e.g. psychotherapy)
Social services (e.g. case management, community health workers)
Home health
Pharmacy
Physical therapy
Nutrition
Spiritual services
In order to function as a cohesive and integrated health experience, WPC calls for de-siloing, data sharing, and collaborative leadership across these different sectors.
WPC takes a holistic approach to each person's health by addressing:
Body: Our genetics, biology, and physical health play a part in our wellbeing. What's more, trauma and other psychological issues can take root in the body.
Community: Human relationships and connections are essential for health.
Environment: Social determinants of health (SDoH) include access to healthy foods, financial resources, education, a non-discriminatory environment, and a safe place to live.
Mind: Mental and emotional health are integral parts of a person's wellbeing.
Spirit: Whether it's an organized religion, a reverence for science, communion with nature, or some other form of spirituality, the connection to something greater than ourselves can strengthen our health.
Dimensions of the Whole Person Care Model
The six dimensions of Whole Person Care include:
Selecting a target population.
Providing person-centered care that incorporates physical, social, psychological, and behavioral health.
Coordinating services across sectors.
Sharing data across sectors.
Having financial flexibility.
Developing collaborative leadership across sectors.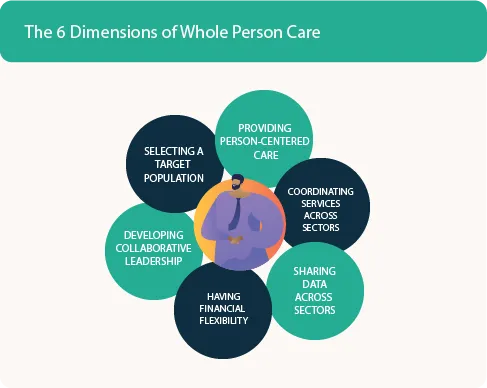 WPC as a Solution to Our Fractured Health Care System
Mental health, substance use, primary care, specialty, and other health services are often siloed, making it challenging to provide high-quality, non-duplicative, and integrated care. Yet, experts agree that a person's socioeconomic circumstances, psychological and emotional experiences, and physical health are all intertwined–so much so that a person's life expectancy can be predicted by their zip code.
As a model that coordinates across physical health, behavioral health, and social services, Whole Person Care is a potential solution to this problem.
Whole Person Care Promotes the Quadruple Aim
The quadruple aim of health care is to improve population health, enhance the care experience, reduce per capita costs of healthcare, and restore the joy in practice for service providers.
From the patient perspective, Whole Person Care alleviates the burden of having to navigate multiple separate systems which can be overwhelming and confusing. When your primary care provider is not able to communicate with your psychiatrist, the burden is on you to share relevant information so your medications line up. Or if the labor & delivery department is not in touch with your case manager, they may make an unwarranted call to Child Protective Services because they don't have sufficient information about your background and care plan.
For providers, when there is no opportunity to coordinate care, you're at risk of using your limited energy to duplicate services, jeopardizing the quality of your care, and burning out.
At the system level, poor coordination can lead to wasteful use of public resources, increased healthcare costs (e.g. unnecessary and costly emergency department visits and hospital stays), and poor population health.
How to Participate in Whole Person Care
At its core, care integration is about strengthening relationships among care providers and between care providers and patients. As a provider, this often means screening and assessing for needs outside of your direct services and partnering with local organizations to offer comprehensive referrals while sharing data to track outcomes.
This might mean co-locating services (e.g. having social workers embedded in a primary care clinic), building capacity through case discussions or consultation, developing a network of service providers, assisting patients with care navigation, improving communication and collaboration, and data sharing to track outcomes.
Funding for Pilot Programs
The Whole Person Care model is gaining traction. The California Department of Health Care Services (DHCS) currently has $1.5 billion in federal funds to offer 5-year Whole Person Care Pilot funding to county, city, and hospital or health authorities. The funds are to be used to integrate care for Medi-Cal beneficiaries who access multiple systems of care, yet continue to have poor health outcomes.
California has already launched twenty-five Whole Person Care Pilot programs that provide a range of services and supports to various target populations. In 2019-20 the state invested $20 million from the Mental Health Services Fund to encourage additional counties to implement Whole Person Care pilots. In addition, the state has dedicated $100 million from the State General Fund towards active WPC pilots to provide housing support services.
As an example, San Francisco has a pilot program focused on better serving adults experiencing homelessness and who frequently access emergency and urgent care services. Partnering across multiple San Francisco agencies, the goal of this pilot is "to establish a comprehensive, seamless and human-centric system of care that improves beneficiaries' health outcomes and supports the goal of making homelessness rare, brief, and one-time."
With Whole Person Care, Everyone Wins
Think back to the examples of Person A and Person B. Person A suffered poor health outcomes, utilized expensive emergency services, and was left to their own devices to navigate their fragmented care.
Person B, on the other hand, was able to experience better health outcomes and address the issues in their life that impacted their health. Person B's care providers were also able to be more efficacious in their roles, and social resources were used in a coordinated and thoughtful manner.
The purpose of a healthcare system is to enhance the quality of life of a population by promoting health and wellbeing. Offering comprehensive and coordinated services in a Whole Person Care model is one potential route towards achieving that aim.
*Kate Dubé is a Licensed Clinical Social Worker (LCSW) and health & wellness writer in Berkeley, California. You can find her at https://www.linkedin.com/in/kate-dube.