Universal Design is defined as designs that are: "usable by all people, to the greatest extent possible, without the need for adaptation or specialized design" (The Universal Design Project). In other words, universal design is applied to the design of products, housing, and environments with consideration for the full range of human diversity and human capabilities. This article will answer some common questions and discuss universal design examples particularly in the context of the I/DD community.
1. Why is universal design important?
Universal design principles advocate designing inclusive and accessible spaces and products for all people, regardless of physical or cognitive ability. The universal design philosophy considers the full range of human capabilities to ensure that no one is left out and helps create a more inclusive world.
For the I/DD community, the benefits of universal design include safety and increased independence. When communities are designed with all abilities in mind, it can promote community integration for individuals with disabilities.
2. What are some examples of universal design?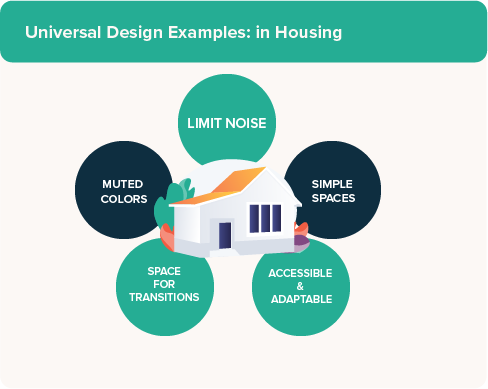 Universal design examples in technology
Globally, the exponential increase of technology-driven products has caused a paradigm shift. People depend on these items and services to do their jobs and carry out other everyday tasks in the home and the community. As a result, universal design has been making headway, and more products are designed with this philosophy in mind.
Some examples of features that align with the universal design philosophy include:
High contrast text to increase the readability of text on a screen by changing the colors to make them stand out better.
Captions in videos to provide a text version of the speech and non-speech audio information required to understand the content on a screen.
Text to audio functionality, also known as text-to-speech (TTS) technology, to translate text on a device into audio.
The use of images and other mediums to present information and provide context in other digestible ways besides text.
Universal design examples in the community
The key to an inclusive community is the universal design approach to make the public realm accessible to all people.
Here are a few ways the universal design philosophy is used in the community:
Envision Unlimited members provided feedback on design ideas, signs and symbols, interactive installations, interior design features, and furniture choices to the Art Institute's Ryan Learning Center. This input from the I/DD community paved the way for renovations, enabling the Ryan Learning Center to provide a more inclusive learning experience.
The Association of Zoos and Aquariums, Vanderbilt University's Kennedy Center Treatment and Research Institute for Autism Spectrum Disorders (TRIAD), and Oregon State University's STEM Research Center are working together to create a framework of inclusive practices for zoos and aquariums. According to the project's creators, their approach may also help zoos and aquariums better serve other historically underrepresented communities.
Some hotels, such as Noelle Nashville, provide accessible rooms to those who use wheelchairs. This Nashville hotel has roll-in showers with adequate grab bars in the bathroom, and the fitness facility, art gallery, boutique, restaurants, and bars are all accessible with a wheelchair.
Examples in the home
Universal design in housing consists of creating a home with elements that all people can use equally. This may mean spacious halls and doors for wheelchair users and no step-ups for those with mobility issues. In the bathroom, it could involve a zero-entry or barrier-free roll-in shower, roll-under sinks, and a tilting mirror that can accommodate both sitting and standing users.
According to AARP, the following design and decorating tips and techniques may help individuals with I/DD live more comfortably in community-based housing:
Use muted colors: Muted colors relieve tension better than primary colors.
Keep the noise low: Simple sounds can cause stress. Hanging a tapestry instead of a painting may help absorb some noise that could induce stress.
Strive for simple spaces: Clutter-free, tidy environments can help prevent overstimulation.
Provide benches for transitions: Transitions may be stressful. Sitting on a bench provides a few moments to process what's coming next before going on their way.
3. What are the seven principles of universal design?
The seven principles of universal design are guidelines for designers to follow in the creation process. These seven principles can help ensure designs, spaces, and products are more inclusive:
Equitable Use: The design is usable and marketable to individuals of various capabilities.
An example of this principle is a web page designed to be accessible to everyone, including users with visual impairments and those who use text-to-speech technology.
Flexibility in Use: The design is adaptable to many preferences and abilities.
An example of this principle is a museum that allows visitors the choice to read or listen to a description of the items on display.
Simple and Intuitive Use: The design is simple to use regardless of the user's experience, knowledge, language abilities, or concentration level.
An example of this principle is a remote control with buttons that are labeled with basic language and symbols that are easy to understand.
Perceptible Information: The design efficiently conveys important information regardless of ambient circumstances or the user's sensory abilities.
An example of this principle is a video that provides both captions and audio.
Tolerance for Error: The design minimizes dangers and the negative consequences of unintentional or accidental activities.
An example of this principle is an educational software that offers instruction and context when a student answers a question incorrectly.
Low Physical Effort: The design allows for efficient and comfortable usage with little fatigue.
An example of this principle is a sink faucet that automatically activates when a user places their hands underneath it.
Size and Space for Approach and Use: The design provides appropriate size and space for approach, reach, manipulation, and usage regardless of body size, posture, or mobility of the user.
An example of this principle is a desk that is readily usable for a person in a wheelchair.
4. How is universal design different from providing "accommodations" to individuals with disabilities?
Universal design includes all people in its concept. Unlike providing accommodations, which is a reactive process, universal design is an iterative process based on providing a design that can be used by anyone, regardless of their capabilities. The philosophy of universal design promotes equality and inclusivity and aspires to go above basic criteria to serve a diverse group of people.
In Conclusion, Designing for All Abilities is Good Design
Everyone, regardless of physical, cognitive, or learning ability, age, or circumstances, should be able to use and enjoy a product or environment. Universal design is a way to achieve this goal by making products, services, and environments that work for everyone. As stated by the Centre for Excellence in Universal Design, universal design doesn't cater to just a small number of individuals. Instead, it considers everyone's different needs and abilities during the design process and is a critical component of good design.