Trauma-informed care is a framework of care that is comprised of common themes including: 
An awareness of how behaviors and symptoms connect to traumatic experiences.
An emphasis on physical, psychological, and emotional safety for staff and clients.
An opportunity for people to regain a sense of control.
A focus on strengths rather than deficits.
A first step in grasping the meaning of trauma-informed care is to recognize how common trauma is and to create a foundational understanding that any person you engage with may be coping with the after-effects of trauma. This doesn't mean asking people about their traumatic experiences or seeking to understand the details of their specific story, but rather to make room for the possibility of trauma in all of your encounters.   
To do this, it's essential to consider the entirety of each person and know that trauma responses, including those that cause developmental, emotional, and social challenges, are adaptive reactions. What to absolutely not do is to limit the focus of your interactions on the pathology of trauma. With trauma-informed care, it's just as important to foster possibility, happiness, trust, aspirations, and wellbeing. 
Common Misconceptions
When you think about trauma you might imagine people suffering in a warzone, physical or sexual abuse, the death of a loved one, or a life-threatening illness. While these events are certainly traumatic, trauma is a broader term that involves anything that overwhelms your central nervous system and changes the way that you react to stimuli. This can include a buildup of ongoing and more subtle experiences, such as feeling unseen by your family system or dealing with the fallout of racist, homophobic, transphobic, and discriminatory societies.
In fact, a common way of describing trauma is that it results from an event or series of events that are physically or emotionally harmful or threatening and that has lasting adverse effects on the individual's functioning and physical, social, emotional, or spiritual well-being. Traumatic experiences are more prevalent than you might think. Research suggests that by the 12th grade, close to 2 out of 5 students have experienced trauma, with sexual or physical assault or family violence being the three most common exposures.
6 Core Principles of Trauma-Informed Care
The 6 key principles of trauma-informed care include:
Safety
Trustworthiness and Transparency
Peer Support
Collaboration and Mutuality
Empowerment, Voice, and Choice
Cultural, Historical, and Gender Issues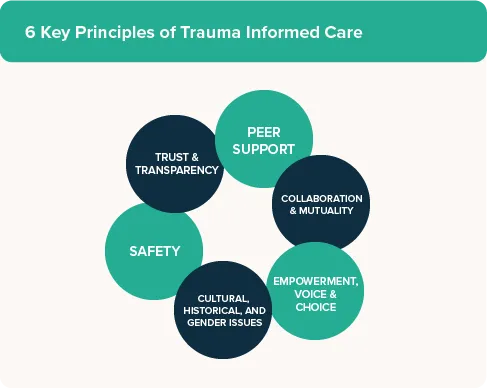 In practice, these principles involve:
Establishing and prioritizing the physical and emotional safety of clients, colleagues, and staff.
Building trust with clients by following through, regulating your own emotions, and actively listening.
Offering choices and options when possible.
Recognizing the signs and symptoms of trauma exposure as it relates to physical, emotional, and psychological health.
Ensuring clinician and client collaboration by developing mutually agreed-upon goals and potentially developing patient or client advisory boards to capture and respond to the client experience.
Providing care based on cultural humility and client strengths.
Recognizing historical and collective traumas which require systemic and root cause solutions. Collective traumas could include neighborhood violence, increased risk of alcohol use disorder, and the disproportionate impact of natural disasters.
Behavioral Healthcare
Taking a trauma-informed approach to behavioral health services can improve the health and well-being of your clients. The sequelae of trauma often lead to mental and behavioral health issues, and a trauma-informed approach calls for therapists, psychiatrists, psychologists, social workers, and other behavioral health providers to incorporate the above themes and principles into their practice.
Examples of Trauma-Informed Care
Examples of trauma-informed care include reframing thinking and history-taking patterns to ask, what happened to you? rather than, what's wrong with you? Equipping clinicians with information so they can identify the signs and symptoms of a dysregulated stress response and respond with appropriate and evidence-based interventions. Or actively avoiding retraumatizing interactions or care experiences by being aware of patient triggers, taking note of body language, and promoting holistic, person-centered, culturally aware, and strengths-based care. 
Building an Informed Organization 
Adopting and sustaining trauma-informed care across an organization requires that the core ideas be applied to staff as much as to clients. This includes addressing vicarious trauma, burnout, work-life balance, and physical safety issues while offering trauma-informed supervision.
Trauma-informed supervision applies the six core principles directly to the supervisory relationship. In order to function, all supervisors–organization-wide–need to be aware of the prevalence and impacts of trauma, and consider how that may interplay in their interactions with their staff and trainees. This can include letting staff and trainees know what you're going to do before it happens, being aware of triggers, creating space to debrief after challenging situations, and understanding trauma responses as adaptive.
Becoming a trauma-informed organization is typically not an overnight transformation, but rather an ongoing journey towards integrating a trauma-informed framework into your organization's culture, practice, and provision of care.
To get there, it's important that engaged leadership and other members of the organization practice what they preach. Investment in organization-wide training, as well as continued discussion and education, can support the broader movement in the trauma-informed direction. It can also be helpful to review and select relevant models of trauma-specific treatment that make sense for you.
Organizations can implement impactful changes off the bat like updating waiting areas and offices to create warm and welcoming spaces, seeking feedback from clients and staff, and displaying information in multiple languages.
*Kate Dubé is a Licensed Clinical Social Worker (LCSW) and health & wellness writer in Berkeley, California. You can find her on LinkedIn.