Let's face it, funding is essential to the success of your agency and mental health grants are often a part of that equation. Securing grants can offer a valuable and much-needed source of income and credibility. They can also diversify your income stream, relieve financial pressure, and support your agency in the development of a new program or initiative, for example, by covering the costs of an EHR or much-needed PPE.
Yet, grants are far from a panacea. Some grants require significant management and work-intensive deliverables, and most are not guaranteed year-to-year. Furthermore, with the significant up-front time investment required to apply for grants, they are not a viable option for urgent financial needs.
Mental health grants are out there, yet it can be confusing and overwhelming to tap into this financial source. This article breaks the process down for you and offers tips to successfully find and apply to the right grants for your agency.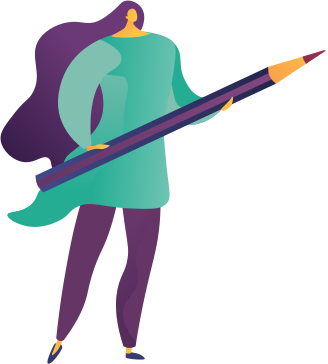 Grants Come in Different Shapes and Sizes
There is no such thing as one-size-fits-all in the world of mental health grants for nonprofits. On the contrary, there are many different types of grants with a range of requirements. Some offer unrestricted funding to develop your non-profit, though these are the least common. Others are more restrictive and support capital campaigns, research projects, or specific programs within your organization.
The key is to find grants that match your unique services and needs. For example, if your nonprofit provides therapy to an under-resourced community, you may explore local grants for mental health counseling programs that target that specific community.
Where to Find Mental Health Grants
Grants generally come out of two main buckets: government (federal, state, or local) and private sector (foundations or corporations). There are multiple searchable grant directories depending on which types of mental health grants you plan to apply for.
Internet Opportunities for Mental Health Grants
The internet includes several subscription-based databases which offer an array of grant opportunities such as, GrantWatch, Candid, GrantStation, and GrantGopher (which offers 5 free searches). If you're strapped for cash, you can search the free, US-based federal grant database or rely on your favorite search engine. Simply plug in the keywords that describe your non-profit and funding needs as well as your location to attain the most relevant results. If you're a Google fan, you can try Advanced Search for maximum specificity.
Local Options
Although there is a plethora of mental health grants online, if you're just starting out, it might be most prudent to start locally. While the pot may be smaller, securing local funding opportunities can help build your credibility and give you a chance to develop your grant-writing skills.
If you're not sure where to begin, get inspiration from other agencies serving similar communities in your area. Review their websites and find out who their funders are. Another option is to explore whether your region has a community foundation and reach out to discuss opportunities. You can also contact your local or state Department of Health, Human Services, or Development, as well as your city council.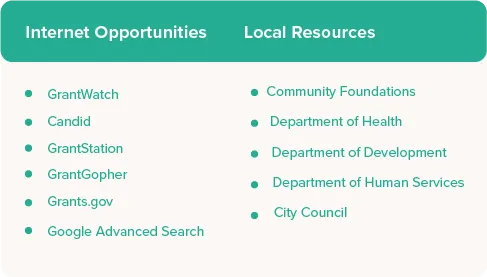 Best Practices in Applying for Grants
Before applying to grants for mental health services, it is important to have a clear understanding of your funding needs and a general plan for pursuing your goals once funded.
Writing grants requires a large time investment. There's no way around it. Yet, if it means the financial solvency of your nonprofit, the returns are well worth it. Here are 4 tips to follow when applying for mental health grants for nonprofits.
Mission Comes First
Before applying to any grant, ensure that the grant-giving organization's mission and values line up with yours. Receiving funding from an organization that does not align with your principles can do far more damage to your reputation than the funding is worth.
Moreover, you are unlikely to secure a grant if your mission is not compatible with that of the funder. If you're not sure, you can explore other programs that they have funded by reviewing their 990 to see how you align. If it's not a match on this level, save your precious time.
Follow Instructions
Each grant opportunity will have its own set of requirements and instructions. It's important that you review each one carefully and follow the directions to a T. Take the time to determine whether you qualify before you start applying.
If you want to do some work in preparation, most grants for mental health services will require a clear description of your mission, vision, project plan, staff and leadership team, and budget. You'll often need to describe, line-by-line, how the money will be spent.
Demonstrate Impact
Funders want to know that their money will be used thoughtfully, efficiently, and successfully. Whether the instructions specifically ask for it or not, grant applications that include discussions of data, organizational or program impact, and measures that you will use to track progress over time, will always be more competitive.
If possible, write up a brief description of your organization's accomplishments to date. Include what you plan to achieve with the grant funding and a clear description of how you plan to evaluate progress. You can also describe your target population, service gaps, how you'll fill those gaps, obstacles that you've faced, and lessons that you've learned.
Use Your People Skills
Never underestimate the power of relationships. Use word of mouth by exploring funding opportunities with colleagues, the board of directors, volunteers, and anyone you know who shares an interest in your work.
When searching for mental health grants, don't hesitate to reach out to a program officer or foundation staff member to explore potential funding opportunities. Don't be shy. If an application is not successful, ask how it could be improved and whether there are other funding sources that you should pursue.
Mental Health Grants in 2021 and Beyond
With mental health issues reaching historic levels in the US and globally, the twenty-twenties are also seeing a rise in mental health funding. While mental health grants are not an easy or quick-fix solution, the right grant opportunities can change the course of your agency and provide crucial funds for your programs.
*Kate Dubé is a Licensed Clinical Social Worker (LCSW) and health & wellness writer in Berkeley, California. You can find her at https://www.linkedin.com/in/kate-dube.