Southwest Youth & Family Services has been providing behavioral health, education, and family advocacy services to youth and families in Washington for over 40 years. After winning our 2020 Impact Prize, Kate Elias, Data and Evaluation Director, spoke to us about change management and using data to create more equitable systems.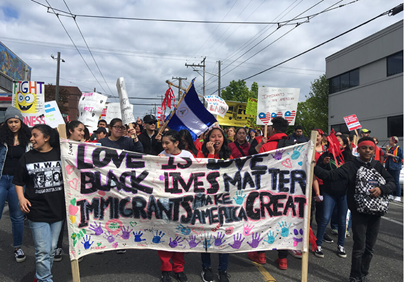 JT: Can you tell me a little more about your role at your agency?
Kate: I'm the Data and Evaluation Director at Southwest Youth & Family Services. Before that, I was actually on the program side with our organization in our New Futures program, which does after-school programs and community-based work. What I do now . . . is everything from database administration to developing overall evaluation plans.
JT: Do you feel like there's a part of your work that you're most passionate about?
Kate: What I really appreciate is being able to get to know everybody who works for our agency. I have an exciting and unique view of how the whole organization is working. I really like supporting the organization to improve our services and making sure that we're meeting community needs.
JT: Before implementing AWARDS, your agency didn't have a centralized system for documentation. What kinds of challenges did this cause?
Kate: We do all kinds of services . . . reporting out to our funders was really patchwork and would take a long time. Communication across the agency about what we were doing was really limited. As a multi-service agency, we're designed to be a holistic approach to services – so like somebody who came in to be part of our education center might also need mental health counseling. But when we went back to count the people we were working with . . . it was pretty messy, in terms of the methodology people were using to keep track of what they were doing.
JT: Going from that system to using an EHR is a big change. How has switching to AWARDS resolved some of these challenges?
Kate: It's really consolidated information to [help us] get an accurate picture of who we work with and how they engage with us. There's been a lot more ability for cross-department coordination because we have easier access to records. It has smoothed the process . . . for reporting out and the ability to meet [community] needs.
JT: Did you meet any resistance to this change and how did you resolve that?
Kate: Yes, and we haven't completely resolved it yet. I think there's a fundamental change management piece around implementing a new data system. People are used to doing things in a certain way and . . . people have to make time to learn the new system. My approach has been to try and emphasize how this [change] makes our services better. But it's definitely a work in progress. [We're] trying to be really open with people and listen to their concerns . . . while also providing ongoing training and supporting people along the way.
JT: Can you tell me more about the Becoming a Man program?
Kate: Becoming a Man (or BAM) was developed by Youth Guidance, an organization out of Chicago . . . it's really a very powerful therapeutic intervention for young men. The whole premise . . . is that youth meet with their BAM group and a BAM counselor every week to collectively explore ideas around integrity and accountability and setting goals for their lives. We are actually the first organization that Youth Guidance has licensed this program to. Right now, we're operating in 4 middle and high schools and serving about 275 young men through BAM.
JT: How has AWARDS helped you run the program?
Kate: Having an electronic health record system was a requirement for applying to get BAM. It's a very rigorous program in terms of curriculum fidelity and clinical intervention. They're very clear about tracking attendance, academic impact . . . and various other factors. It's very data-driven as a program and in order to be eligible, we had to show that we had systems in place that could track what needed to be tracked. The EHR [allowed us] to take progress notes, group notes, and then to be able to pull all this out [with reporting] to show what we were doing with this program.
JT: Since the beginning of the pandemic, your agency did a great job of using data to address needs in real-time. Can you talk more about that?
Kate: We've used data on a variety of different levels during the pandemic. We set up an emergency survey to figure out what families' needs were, and used that information to inform fundraising and resource allocation. Right off the bat, we saw that people were losing their jobs. A lot of people were excluded from federal unemployment and stimulus efforts. We used data from these surveys to figure out that we needed to prioritize rental assistance and food assistance . . . and to pivot to financial support based on feedback from clients.
Over the summer, we held about 10 focus groups from folks from different programs. Just to hear about what they felt about our response during this time, and what we can do better moving forward.
JT: You talked about data equity in your session at User's Conference. What does this mean and why is it so important to you?
Kate: I think . . . white people in general have an even greater responsibility to make sure that the work that we're doing is directly working to dismantle racist systems. Data is not immune from that – in fact, I think data and evaluation work can often bolster racist systems. There's a few ways to approach this, in my opinion.
On an internal level, looking at our practices and who is actually doing the data and evaluation work. Figuring out how to diversify staff at that level . . . if it's not in the cards to create a whole new position, one thing I did was create a data and evaluation advisory group that . . . brings in lots of different perspectives so that I'm not making decisions in a vacuum.
There's this myth that data is a neutral, objective thing – but the data that we prioritize is all based on personal perspective. The next phase of it is . . . how do we use our data to dismantle racist systems?
Lately, I've been thinking about language – a lot of our staff and participants don't speak English as their first language . . . but every database I've interacted with is in English-only. It's stuff that I don't think we consider unless we're paying attention to how biases play out.
There's this myth that data is a neutral, objective thing – but the data that we prioritize is all based on personal perspective. The next phase of it is . . . how do we use our data to dismantle racist systems? We should be using it to shine a light on inequitable systems, [such as] comparing graduation rates by race and comparing it to the race of teachers at school, uneven internet access, and COVID-19 spread in communities.
Numeric data should be paired with other information that is equally valuable – stories of people's lived experiences, photos of neighborhoods, community demands – [these] should be treated as data with equal value. For me, the phrase that I've heard that I appreciate is: people who are closest to the problem are closest to the solution. If the data we're collecting is really far away from those people . . . then, we're getting further away from how to fix the problems.
Have a mission around data . . . whatever we collect, we're going to make sure it's directed in an intentional way at working to dismantle racist systems.