What Is People First Language?
People First Language focuses on the central idea that defining a person by name (Jane) or role (Aunt, Sister, Friend) and not disability helps others see potential rather than limitations.
At Foothold Technology, we believe in and always strive to use People First Language. While some outside of the social services community may have no idea what this is or why it's important, the language we use has a tremendous impact on the lives of many people we encounter day to day.
Before joining Foothold Technology's Training Division, I spent over 10 years working with individuals with intellectual and developmental disabilities. In this role, I was able to educate many people on the importance of looking at people's unique gifts and possibilities, rather than focusing on disabilities. This mindset begins with the language we use. While this concept isn't always followed, especially by mainstream media, it has been gaining attention.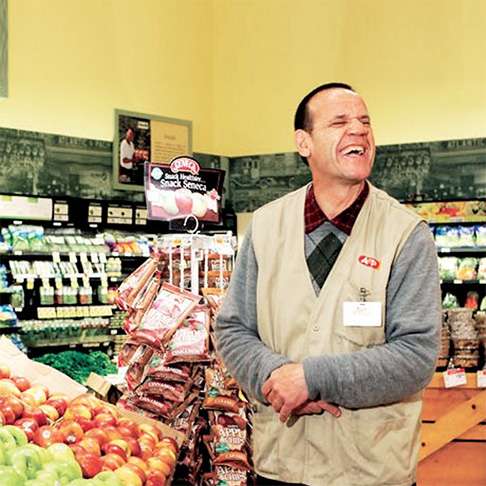 Examples of People-First Language
People-first language generally follows a few core principles:
Put a person before their disability, so that they are not defined by their disability.
Recognize that people with disabilities have their own goals and preferences. Language should promote choice and autonomy.
Emphasize abilities and talents over limitations.
Avoid negative or patronizing words, such as "victim, tragedy, afflicted by, and unfortunate."
View any assistive devices as enabling, rather than limiting.
To put these principles into practice, here are just a couple of examples of people-first language:
"Person who has a disability," instead of "disabled individual."
"Individual living with a developmental disability," instead of "developmentally disabled."
"Child with autism," instead of "autistic child."
"Person who uses a wheelchair," instead of "wheelchair-bound."
Why Is Person-First Language Important?
People deserve the respect of being identified as a person first, rather than being solely characterized by perceived limitations. It's important to understand that our words have meaning and that choosing the right language puts the person before the disability.
Individuals with disabilities are people first. Keeping that paramount in my mind has affected the services that I provide to our customers and those I'm training. By adopting People First Language, I know that I'm allowing a person to define themselves and never allowing my words to limit a person's potential and dreams.
We should strive to use people-first language in our daily lives, working environments, and in our media. This helps promote dignity and respect for individuals with disabilities throughout our society.
Identify First Language vs. People First Language
Of course, there are also nuances and a diverse range of opinions on the use of people-first language. In some communities, there is a growing preference for identity-first language, which allows individuals to reclaim their disability as a part of their identity.
The conversation around language is always evolving, but we can strive to always use language that empowers.
If you're unsure, it's best to defer to the individual themselves. Ask them what they prefer and recognize that each individual will have their own preferences.
Person-Centered Language in Practice
As an Implementation Consultant at Foothold Technology, I bring my belief in the importance of People First Language to every training. As I'm walking someone through our software's functionality, I pull from my experiences to emphasize the importance of language when working with all individuals.
This might mean highlighting some of the many ways Foothold Technology embraces the importance of person-centered language within the database itself. For example, the form-building functionality in our software gives agencies the ability to create forms that enable person-centered planning, where the focus can be on a person's abilities rather than their disabilities. In addition, within an agency's database, the label "client" or "consumer" can be changed to simply read "individual."
For I/DD organizations, using people-first language is a part of delivering person-centered services. Using the appropriate language in your notes, service plans, staff meetings, and daily interactions with individuals will go a long way.
If you aren't already, I hope you'll consider ways to integrate People First Language into all aspects of your life. For those less familiar with this concept, I always recommend starting your journey by reading this helpful information compiled by The Arc.