Background
Misericordia has been adapting to meet the pressing needs of its Chicago neighborhood for nearly a century. Beginning as a maternity hospital for women in need in the early 1920's, the agency transitioned into serving young children with intellectual, developmental and physical disabilities in 1954 after recognizing the great necessity for that work in their community. It expanded in the 1970's to include programs for adults as well, continuing care for the individuals served as children. Presently, Misericordia supports more than 600 children and adults with intellectual and developmental disabilities through a variety of program models and works to share its mission with the surrounding community.
As the agency adapted to the demonstrated need in its community, so did its models of service provision. For example, in expanding services for adults, one of the focuses became employment services. In the 1990's, Sister Rosemary Connelly, RSM, the Executive Director, wanted to create employment opportunities on campus, noting a lack of opportunity for residents in the community. Michael Diaz, Misericordia's Administrator of Community Day and Employment Services/Developmental Training Program, has been with the organization for 27 years. He described this growth, saying that when he joined day services in 2007, "12 residents held 20 or 21 positions in the community. Before COVID-19 hit, we were up to 102 residents holding 122 positions in the community, in addition to 78 individuals who have weekly volunteer roles throughout the Chicagoland area."
By centering their mission of supporting children and adults with intellectual and developmental disabilities through the highest quality residential, training and employment services, Misericordia continues to develop to suit the needs of individuals throughout their lives. Mr. Diaz explains the organization's adaptive approach to service provision, saying, "We have implemented a culture of constant strategic development and improvement."
Support Through Social Enterprise
The social enterprises that Misericordia built, beginning in the 1990's, are one of the many ways they have adapted their programs to creatively meet the needs of their residents. The Greenhouse Inn restaurant was the agency's first social enterprise when it opened in 1991. Mr. Diaz says, "It was created for two purposes: the main purpose was to create work opportunities for adults with disabilities who were able and who chose to work. The second was to create outreach to the surrounding community. It also created a development avenue for us–not from the revenue of the restaurant, but for teaching people about Misericordia and bringing in guests so they can see what we do and talk with people in our residential community."
The Hearts and Flour Bakery followed in 1993 to provide more opportunities to residents. As with the restaurant, this social enterprise has two goals: to further opportunities for the individuals Misericordia services and, ideally, to sustain itself financially. Like all of the agency's social enterprises, the enterprise profit is not the goal but rather means through which to continue the program. Based in Chicago with shipping capabilities at a national level, 15 residents as well as between five and 15 volunteers typically work at the bakery on a given day. Individuals who work at Hearts and Flour Bakery participate in nearly every aspect of the baking and packaging process, and volunteers get the opportunity to work side-by-side with residents and build relationships.
Misericordia continues to develop enterprises. The Greco Gardens greenhouse program opened in 1995 and intended to operate as a social enterprise as well. They transitioned into primarily using the greenhouse as a learning environment when it became clear that it was more beneficial to their community that way. However, greenhouse products are still sold at their Heartstrings Gift Shop. "I'm a big believer in having a philosophy before the approach," said Mr. Diaz. "Then we have to keep improving and growing." The agency's continuous commitment to quality improvement, ensuring that its endeavors are mission-driven, contributed to a redirection that prioritized the needs of their community and built a new program plan around those needs.
In 2011, Misericordia started Coffee From the Heart, a coffee packaging program that provided more job opportunities for residents alongside volunteers as well as another opportunity to spread awareness about Misericordia. They are planning to expand to include a drive-through coffee service near their campus in the coming year, which will provide community-based opportunities for residents. Most recently, in 2018, they also opened Glenview Sweet ♥ Shoppe; a bakery, coffee and gift shop, which they developed to provide more in-community employment opportunities as well. While the operation of these programs have had to change due to COVID-19 and restrictions, online ordering for their open enterprises and updated information about the businesses are available on the Misericordia website.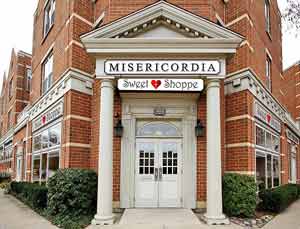 Managing and Addressing Change During Covid-19
The COVID-19 pandemic brought a great deal of disruption to Misericordia, as it did to many providers. "It changed everything," Mr. Diaz stated. "We have hundreds of consistent volunteers, many of them family members of the residents, as well as community members, richly involved on the campus. All of it was shut down." The 102 Misericordia residents that work in the surrounding community are no longer able to go to work due to the collective risk it poses. While individuals may take on the "dignity of risk," as Mr. Diaz framed it, in making self-determined choices about their own lives and work, each risk they take with regard to the pandemic is multiplied and impacts everyone else as well due to the residential nature of the campus and programming.
"We continue to meet consistently, and with the introduction of any new piece of knowledge," Diaz said, discussing the organization's approach to planning and change management. "All we can do is take it a step at a time. We have to be open to change daily, especially in the beginning." As Misericordia continues to navigate the challenges of the pandemic, their commitment to a mission-driven approach to service provision and adaptability remain central.
The Road Forward
"There have also been some good things that, if retained, could enhance services," Diaz says. "Particularly for people who are aging or have health concerns, we can provide an amount of service in their residences that can decrease their community exposure risk." Virtual day programs have also provided opportunities to connect with service recipients in new ways.
Misericordia received approval to partially open programs in April and now are able to serve about 101 individuals in day programs. Residential programs also have been able to expand to provide programming that would normally happen elsewhere in the community. They have gradually built up programming again as more information becomes available, informed by close monitoring of the changing situation, case numbers and mandated safety measures. They have been working on re-opening social enterprises, as they are able to safely do so, to allow residents to return to jobs that they care about, and that provide connection and engagement. Presently, the bakery and coffee businesses have been able to open, but at less capacity than typical due to volunteers unable to join yet. With each decision, Misericordia prioritizes the physical and emotional safety of the individuals with disabilities who they serve, the families of those individuals, and the larger community.