Communities and advocates across the country are coming together to celebrate DSP Week 2023 (Direct Support Professional Recognition Week 2023) from September 10th through September 16th. Direct Support Professional Recognition Week is a dedicated period to honor and celebrate the invaluable contributions of Direct Support Professionals (DSPs) in the field of intellectual and developmental disabilities (IDD) support and care. This week-long event serves as an opportunity to recognize and applaud the dedication, compassion, and expertise of DSPs who provide vital support and assistance to individuals with IDD.
We are thrilled to participate for the third consecutive year by highlighting the remarkable work of DSPs through our Nominate a DSP Initiative. We have curated a Kudoboard filled with heartfelt nominations from the community. One striking aspect that emerged while reviewing these submissions is the consistent use of words that describe how DSPs consistently go the extra mile, think creatively, and, most importantly, act as advocates for the individuals they serve. Here are a few examples of these submissions, and I encourage you to explore the full Kudoboard here.
"She is a wonderful advocate for the individuals. She helps the entire residential team by filling in where she can, coming up with ideas to make the program better, and ensures her co-workers are kept up to speed on all things going on with the individuals in the home which is essential for continuum of care!"

"She is always willing to help wherever she is needed. Whether it's working in the kitchen, helping residents to appointments or doing active treatment with residents. She does her work with style and grace. She hasn't been doing this long but she has become very good at what she does. She is always willing to learn more."

"She always goes above and beyond for her consumers. Positive attitude and selfless acts make her stand out each and every day. She supports her consumers' advocacy in their everyday lives and makes sure they are having the time of their lives when they are with her. We appreciate all the hard work she puts in day in and day out!"
Here are some ways in which we can celebrate the work of DSPs this year:
1. Celebrate DSP Week by Sharing Stories from Direct Support Professionals
This year, we wanted to celebrate direct care staff by bringing awareness to the incredible impact that DSPs have on the individuals they serve. We asked the providers in our community to nominate DSPs that are doing amazing work. We've received over 100 nominations throughout the summer. We compiled these nominations into a virtual kudos board, to share DSP stories from our community and highlight the importance of their work.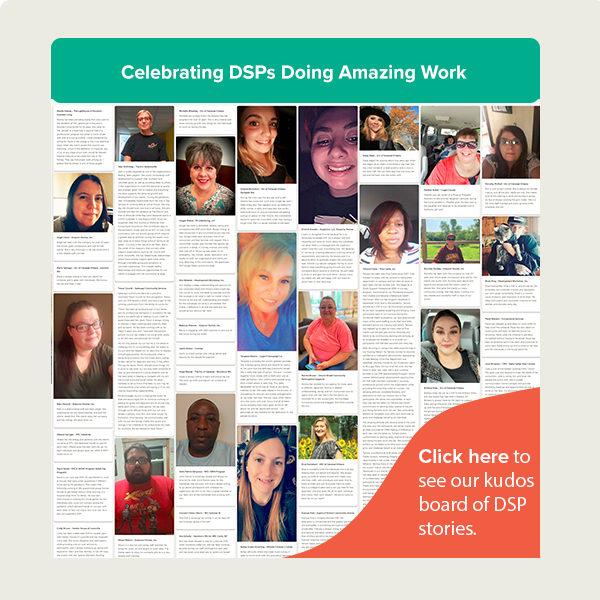 2. Support Landmark Legislation in Time for DSP Week
We all know that the DSP workforce has struggled with low wages and lack of benefits for a long time. This has contributed to extremely high turnover rates for direct care staff, while discouraging potential employees from becoming DSPs.
The effect on the I/DD community is detrimental. Many individuals who seek out home and community based services (HCBS) are placed onto substantial waiting lists. Even those currently receiving HCBS services often face staff shortages. Despite best efforts, agencies are unable to find available staff members to serve every individual they work with. These shortages have only been exacerbated by COVID-19.
But this year, the Better Care Better Jobs Act has been introduced to Congress. This landmark legislation would expand Medicaid funding for HCBS and improve HCBS payment rates to increase DSP wages. The bill would also hold states accountable for improving the availability of HCBS services, addressing disparities in accessing services within the state, and demonstrating improved care quality. ANCOR has already submitted their notes on the bill and has encouraged community members to advocate heavily for the legislation.
3. Advocate for DSPs Within Your Own Organization
While legislation will make the largest impact on the DSP workforce crisis, there are smaller changes that providers can make in order to recognize the DSPs in their organizations. Agencies can expand DSP educational and career advancement opportunities, remind supervisors to recognize their staff for good work, and find other ways to appreciate their direct care staff.
For too long, DSPs have been underrecognized for the crucial work that they do. We'd like to echo the importance of supporting legislation that will make meaningful improvements to the wages and benefits of direct care staff around the country.
---
DSP Recognition Week holds significant importance as it highlights the critical role DSPs play in enhancing the quality of life for people with disabilities. These professionals are the unsung heroes who empower individuals with IDD to lead more independent and fulfilling lives. They offer vital assistance with daily activities, skill development, and emotional support, fostering inclusion, and a sense of belonging within the community.
Moreover, DSP Recognition Week serves as a platform to raise awareness about the challenges and rewards of the profession, advocating for better wages, training opportunities, and recognition for DSPs. By shining a spotlight on these dedicated individuals, we not only express gratitude for their tireless efforts but also inspire others to consider careers in this field, ultimately improving the overall quality of care and support for those with IDD.
While DSP Recognition Week is a dedicated time to honor these professionals, it is crucial to recognize and celebrate the contributions of Direct Support Professionals every day. Their unwavering dedication and exceptional care make a meaningful difference in the lives of those they support.
No matter where you are for DSP Week this year, we recommend that you take the time to thank a DSP in your life this week!