Across the country, communities and advocates are celebrating DSP Week (Direct Support Professional Recognition Week) from September 12th through September 18th. We're excited to be joining the chorus of voices celebrating the important work of DSPs, especially in light of the unique difficulties faced throughout the last year and a half. We've brought together a list of ideas to help you recognize DSPs this year.
1. Celebrate DSP Week by Sharing Stories from Direct Support Professionals
This year, we wanted to celebrate direct care staff by bringing awareness to the incredible impact that DSPs have on the individuals they serve. We asked the providers in our community to nominate DSPs that are doing amazing work. We've received over 100 nominations throughout the summer. We compiled these nominations into a virtual kudos board, to share DSP stories from our community and highlight the importance of their work.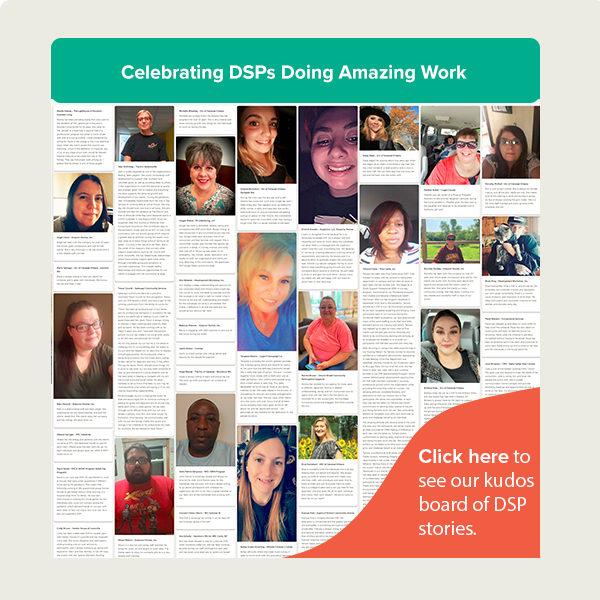 2. Support Landmark Legislation in Time for DSP Week
We all know that the DSP workforce has struggled with low wages and lack of benefits for a long time. This has contributed to extremely high turnover rates for direct care staff, while discouraging potential employees from becoming DSPs.
The effect on the I/DD community is detrimental. Many individuals who seek out home and community based services (HCBS) are placed onto substantial waiting lists. Even those currently receiving HCBS services often face staff shortages. Despite best efforts, agencies are unable to find available staff members to serve every individual they work with. These shortages have only been exacerbated by COVID-19.
But this year, the Better Care Better Jobs Act has been introduced to Congress. This landmark legislation would expand Medicaid funding for HCBS and improve HCBS payment rates to increase DSP wages. The bill would also hold states accountable for improving the availability of HCBS services, addressing disparities in accessing services within the state, and demonstrating improved care quality. ANCOR has already submitted their notes on the bill and has encouraged community members to advocate heavily for the legislation.
3. Advocate for DSPs Within Your Own Organization
While legislation will make the largest impact on the DSP workforce crisis, there are smaller changes that providers can make in order to recognize the DSPs in their organizations.
Agencies can expand DSP educational and career advancement opportunities, remind supervisors to recognize their staff for good work, and find other ways to appreciate their direct care staff.
For too long, DSPs have been underrecognized for the crucial work that they do. We'd like to echo the importance of supporting legislation that will make meaningful improvements to the wages and benefits of direct care staff around the country.
No matter where you are for DSP Week this year, we recommend that you take the time to thank a DSP in your life this week!