Community integration for people with disabilities supports the overall health and wellbeing of individuals and entire communities. Historically, and for several decades, large numbers of people with intellectual and developmental disabilities were housed in institutions without their consent.
These living environments often had strict rules managing basic life tasks such as what a person could eat, when they could go outside, and who they could socialize with. Since that time, there has been a shift away from institutions and towards community-based living.
What is Community Integration?
People with disabilities have been historically excluded from certain social interactions, employment opportunities, and educational environments. This is a problem that affects many Americans. Nearly one in four people in the United States, and more than one billion people worldwide, are living with a disability.
Community integration is a way to ensure that all people have access to the full spectrum of social, educational, and professional opportunities. These opportunities are embedded within the existing community, rather than segregated. This not only promotes the well-being of individuals but also increases the overall health of the entire community.
At its core, community integration involves ensuring that each person with a disability has the opportunity to pursue their interests, desires, and goals. This includes control over their own day and which activities they pursue. It also means that each person can choose to receive services in the most integrated setting appropriate to their needs.
Affordable and integrated housing is essential to community integration. Everyone should feel comfortable where they live. Integrated housing offers people with disabilities the chance to make their living space their own, and to tailor their in-home supports to meet their specific needs.
When integrated housing options are scattered throughout the community, this creates the opportunity for full integration into neighborhoods and daily life. It allows people to live in and interact with the community while also having access to services that help them thrive.
It's the Law
Community integration is not only beneficial for individuals and communities , it's also written into the law. In 1999, the Supreme Court of the United States held that unjustified segregation of people with disabilities constitutes discrimination in violation of title II of the Americans with Disabilities Act.
The Olmstead ruling specified that government institutions must offer community integrated services when:
Such services are appropriate.
The person chooses or does not oppose community-based services.
The services can be reasonably accommodated given the resources available.
In the majority opinion, the late Justice Ginsberg wrote, "confinement in an institution severely diminishes the everyday life activities of individuals, including family relations, social contacts, work options, economic independence, educational advancement, and cultural enrichment."

Examples of Community Integrated Activities
Community-integrated activities allow all people to enjoy the benefits of their surrounding neighborhoods. They can also promote connection and presence in communal environments. There are several different activities that a community-integrated program can offer. Some examples include:
Enjoying public facilities (e.g., libraries and community centers).
Participating in after-school and extracurricular activities.
Supported employment in non-segregated workplaces.
Having options for healthcare.
Joining a religious institution, faith group, or other spiritual pursuits.
Participating in a political campaign.
Engaging in the arts (e.g., theater, concerts).
Volunteering for a cause that feels important to the individual.
Joining a sports team.
Attending cultural events or groups.
Visiting local parks or nature centers.
Using public transportation.
Accessible community-integrated housing options.
Why is Community Integration Important?
There are many benefits to community integration for people with disabilities. It can increase social connections and opportunities, while also promoting autonomy in decision-making. It can also benefit society as a whole by collectively sharing the wisdom, knowledge, ideas, talents, and creativity of all people.
From a financial standpoint, expanding public funding for community integration programs has the potential to cost less than blanket institutionalization. (Which again, is against the law.)
Integration Promotes Inclusion
Community integration doesn't end with offering equal access to people with disabilities. It's also about building a true sense of inclusion and participation in the variety of life roles and activities.
This means:
Seeing people who look like you or have similar experiences to you in positions of power.
Experiencing respect for your personal choices.
Having access to educational and professional growth opportunities.
Having access to environments that are designed to include people of all abilities.
Having access to reasonable accommodations in educational and employment settings.
Obstacles to Community Integration
For community integration to work well, people with disabilities need to have access to resources, structures, and a non-discriminatory environment. There are several potential barriers to access that need to be considered when developing a community integration program.
These include:
The type of disability that a person has.
How the disability affects a person's life and its severity.
The level of support that a person has.
The accessibility of the surrounding natural and built environment.
The availability of accessible communication and assistive technologies
The attitudes of people towards disability.
The availability of reliable and affordable transportation.
Funding for programs, staffing, and training.
Community Integration is Already Underway
It is possible to identify and resolve obstacles to community integration for people with disabilities. Much progress has already been made in public education and awareness to reduce stigma and discrimination. In addition, intentional universal design principles are being expanded in business and government, while assistive technology is being made more widely available.
There is protective legislation in place (including reasonable accommodations) that promotes the rights of people with disabilities. And a shifting use of Medicaid waivers away from institutional living towards supporting community integration. While there is no one-size-fits-all for people with disabilities (or for anyone), it's clear that options for community integration are an important part of the movement toward social justice and civil rights.
---
---
Research
How States are Helping Residents with Independent Living Disabilities
Written by: Andrea Vale, Data Work By Elena Cox
It's not just the very old—for a growing number of American adults, completing basic errands can be anything but a simple daily task.
More and more Americans report difficulty doing errands alone, including visiting the doctor, shopping, or doing other daily tasks necessary to live. According to the Centers for Disease Control and Prevention, as of 2021, over 17 million Americans aged 18 and older have what's considered an independent living disability. The CDC includes people in this group if they self-report having a physical, mental, or emotional condition that prevents them from doing errands alone.
Each state can play an essential part in closing the gap. Foothold Technology examined CDC data to determine which states had the most residents with independent living disabilities in 2021 and how that number has changed since 2016, and explored several ways states are helping this population live more independently. There is federal help available for some of these efforts. In September, the Education Department announced nearly $199 million in funding to help individuals with disabilities transition to life after high school. The funding is part of a patchwork of programs offered at the state level across the United States.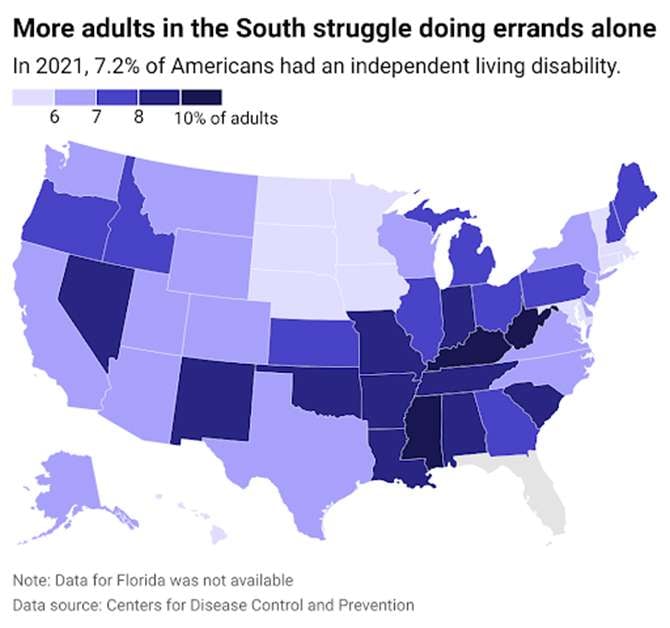 States with the most residents with independent living disabilities
Many states are working to help their residents with disabilities gain more control over their health care, employment, community participation, and other aspects of their daily lives.
California's Independent Living Programs focus on developing functional self-help skills in people with disabilities to offer them more independence. Short-term and long-term assistance is available depending on people's needs.
In Texas, some local school districts are partnering with nearby universities to allow young adults with disabilities to hone their social skills, aiming to improve their employment prospects as they transition out of high school. In addition to skills training to enhance their employability, they also engage in peer-to-peer recreation.
A Wisconsin Department of Health Services program funded by the American Rescue Plan Act disperses funds for residents to improve their ability to live long-term in their homes. Recipients can use the money toward whatever they deem most helpful, including specialized medical equipment, moving services, home modifications, financial management, or personal emergency response systems.
The varying ways states have decided to approach these challenges show how independence can have drastically different meanings for each person, depending on their unique circumstances.
Read on to see which states had the most significant increase in residents with independent living disabilities from 2016 to 2021.
#10. Idaho
– Share of adults with independent living disabilities: 7% (up 1.2 percentage points from 2016)
#9. West Virginia
– Share of adults with independent living disabilities: 11.4% (up 1.5 percentage points from 2016)
#8. Ohio
– Share of adults with independent living disabilities: 7.9% (up 1.6 percentage points from 2016)
#7. Virginia
– Share of adults with independent living disabilities: 6.7% (up 1.7 percentage points from 2016)
#6. Indiana
– Share of adults with independent living disabilities: 8.2% (up 1.8 percentage points from 2016)
#5. Utah
– Share of adults with independent living disabilities: 6.5% (up 1.8 percentage points from 2016)
#4. Kansas
– Share of adults with independent living disabilities: 7.1% (up 1.8 percentage points from 2016)
#3. Illinois
– Share of adults with independent living disabilities: 7.4% (up 1.9 percentage points from 2016)
#2. Alaska
– Share of adults with independent living disabilities: 6.3% (up 2 percentage points from 2016)
#1. Wisconsin
– Share of adults with independent living disabilities: 6.5% (up 2.2 percentage points from 2016)
Story editing by Jeff Inglis and Ashleigh Graf. Copy editing by Kristen Wegrzyn.